Say No to Lazy, Disjointed Marketing. Market With Impact With a Campaign Instead.
Dec 14, 2022
The new generations of entrepreneurs don't just want to sell their thing anymore. They want to make a positive impact and change the world for the better.
And you know what? Consumers expect them to.
The product or service you sell is inconsequential.
Whether you consider the impact on our planet with recycled clothing, support industries with social and environmental priorities with your ethical super fund or create toothpaste without sugar; brands need to put their money where their mouth is.
As a brand owner it's hard enough to cut through the noise with your marketing. Let alone combine it with the noble goal of long-term societal change.
I've been in the industry for 20 years and worked in brand management roles for global consumer brands Vegemite, Kraft, Maybelline and BIC in France. What I know is -
Your best bet to succeed is to utilise the power of marketing campaigns.
The hard truth is: lazy or disjointed marketing efforts don't cut it anymore. Campaigns work. Marketers in agencies and large corporations already use them to reach marketing objectives.
My business Campaign Del Mar recently polled our target market and found surprisingly, only 50% of founders have created campaigns before.
Because, they're likely not professional marketers. Once you know how to build a campaign, it's a skill you'll have for life.
Read on to find out:
See successful campaign examples
And, get my top 3 tips to create your own marketing campaign.
What is a marketing campaign?
We define it as:
"A connected series of actions leading to the desired outcome."
Campaigns are engaging and memorable.
Campaigns are where marketing and advocacy meet.
Campaigns have started movements.
Campaigns have changed minds.
Campaigns have shifted behaviours.
Here are some examples of successful marketing campaigns. How many do you recognise?
Movember

RU OK?

Slip, slop, slap

Stop it at the start

Summer lamb

100YR Cleanup
Let's take a closer look at some of these.
Movember
Movember is a charity, but it's also a brilliant campaign example. Two Aussie blokes in their backyard created the idea in 2003. Since then, Movember has raised more than $730 million AUD. Each November across 21 countries, men grow their mo's to raise money and awareness for over 1000 mens health programs.
Slip, Slop, Slap
In 1981 the Cancer Council launched one of Australia's most successful health campaigns. Sid the seagull tap danced his way across our screens in board shorts, a t-shirt and a hat. The catchy jingle slip, slop, slap reminds us of three easy ways to protect against skin cancer.
Got Milk?
Celebrity Got Milk? moustache poster. Image: Milk Processor Education Program.
One of my favourites. For decades, the milk industry dominated the beverage consumption category. The promise was, milk is good for you - you need it. Across the globe, milk was promoted as a wholesome drink and endorsed by health professionals.
Then in the 70s and 80s came the Pepsi and Coke "effect". Lauren Pickering one of Australia's leading brand marketers joined me on my podcast "Got Marketing" by Campaign Del Mar to discuss:
"Pepsi and Coke came along, and they aggressively positioned their beverages. They positioned them with celebrities. They were fun, sexy, and youthful. They made milk look boring – buying it, drinking it, everything about it." - Lauren Pickering
The way the milk industry was marketing no longer worked. Soda became the beverage of choice.
Advertising legends Goodby & Silverstein created the "Got Milk?" campaign. The goal was to reverse declining milk consumption and shift societal habits.
Got Milk? Is one of the most recognisable campaigns in recent history. Created in 1993, it endured for over a decade. Nationally licensed, it spawned hundreds of rip-offs and became part of the vernacular. 28 years since the campaign first launched, it's back.
Did it succeed in changing behaviour? Yes. They reduced what could have been a $200 million-dollar decline, to roughly a $20 million-dollar decline. In the year or two after the campaign, the gallons of milk sold in California increased. But milk consumption and sales over the next ten or so years went down.
The soda industry disrupted milk consumption.
The campaign may have worked in slowing down the inevitable demise of milk. But at the end of the day, the best marketing campaign can't save a dinosaur industry. Nor should it.
100YR Cleanup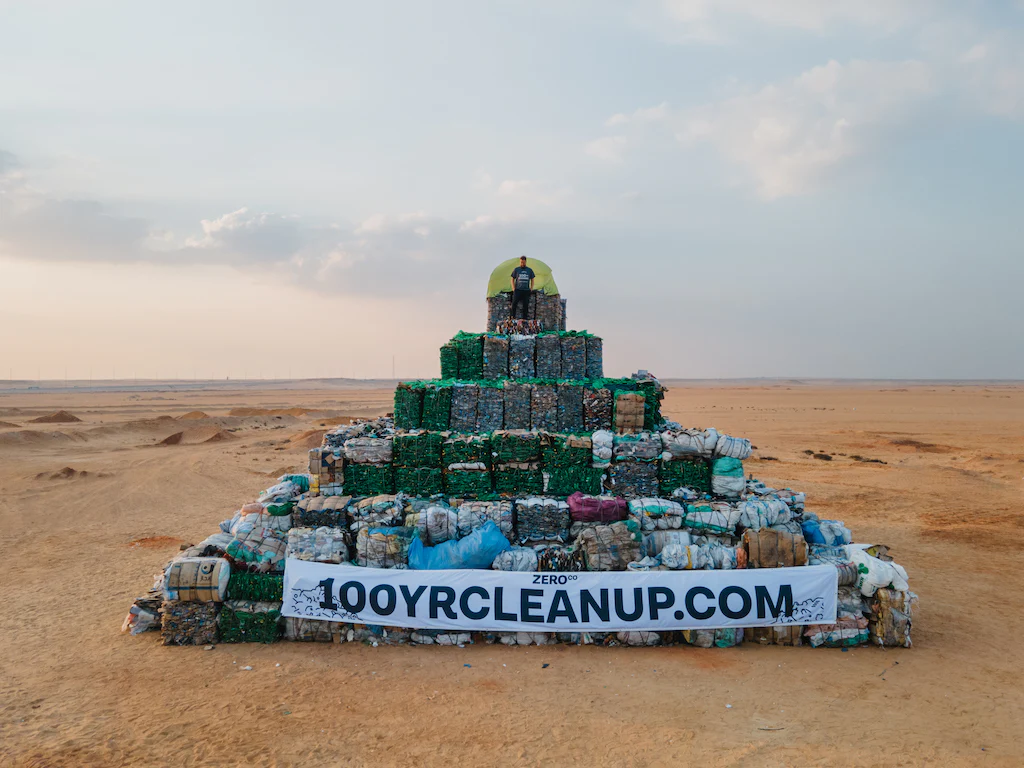 ZeroCo is the best example of a brand that taps into the power of campaigns to make meaningful change.
Since their birth in 2019, they have used a campaign approach. Their latest campaign is their biggest yet. The 100YR Cleanup, saw founder Mike Smith travel to Cairo and build a pyramid out of trash.
Summer Lamb
Every January, I'm like a kid eager for Christmas. Why? I'm waiting for the Meat and Livestock Association to drop their annual lamb campaign.
The campaign launches in January to boost lamb sales for summer barbecues and get-togethers. But this anticipated campaign is recognised year round.
My top 3 tips to get started with your campaign
1) Focus on 1 or 2 objectives
Most brands go wrong by trying to cram too many objectives into one campaign. Campaigns work best when they focus on one outcome. I get it, brands have so many goals it can be challenging to pick one.
But strategy is about choices; we can't do it all at once, so we must prioritise. The question to ask yourself is, what is your most pressing objective right now? Or what goals do you need to meet before you can move on to other significant objectives? For instance, if your brand isn't well known, the priority would be to create a brand awareness campaign.
2) Plan an integrated, multi-channel approach across paid, earned and owned channels
It takes several touchpoints to get people to take action and many more to change behaviours. As a marketer with two decades of experience, my advice is to use every opportunity available to you.
Brands rely too much on social media. Using only social media for your campaign is like using a hammer to build your whole house. Why limit yourself to one tool when there are so many others at your disposal?
A smart mix of paid, owned and earned channels allows you to do more with less. Don't throw all your money into advertising. Use owned and earned channels to get more from your budget.
3) Brainstorm a Big Idea
Campaigns are about capturing attention. Underpin your campaign with a creative theme, hook or message that resonates with your audience. We refer to this as the "Big Idea", coined by David Ogilvy.
Coming up with your Big Idea is one of the most challenging parts of campaign creation. It's also one of the most important. Why? It determines whether your campaign stands out or blurs into the background.
Creativity is the future of business advantage. Campaigns are perfect to showcase your brand with impact, in a creative way.
A marketing campaign is a considered, cohesive, focused effort. Playing it safe is risky. You are almost guaranteed to have people scroll past your campaign.
Check out the examples of successful campaigns above. Pick your objective, use a multi channel approach, brainstorm your big creative and get strategising.

Enjoyed what you've read? Have me in your ears with my Got Marketing Podcast.
---
This article was originally published in SmartCompany
---