How to Plan for a Marketing Campaign Shoot
Sep 03, 2023
If you're a brand investing in a professional photo or video shoot as part of your marketing campaign, there is a lot you can do to ensure the success of your campaign before, during and after your shoot.
Not all campaigns involve a photography or video shoot, but when they do, you want to ensure you are prepared because do-overs are expensive. No amount of Photoshop and post-production can rescue your content; it can only enhance it.
This article will cover:
Roles on set, including yours
Pre-planning, also referred to as production
During the shoot, the production
After the shoot, post-production
Pro Tips
Production Roles
Videographer or Camera Operator (video shoots):
The person holding the video camera filming the visual elements of the campaign. This role is essential for obvious reasons.
Tor Burns, Director of Photography at Production Studio Global Headquarters, whom we have used for two of our campaigns.
Sound technician (video shoots):
The person responsible for capturing the audio elements of the shoot. Your video campaign may not include audio, or your camera operator may be doing this for you.
Sound technician Jiwa Igusti on a campaign shoot.
Director / Producer (video shoots):
Often, bigger budget campaigns have the luxury of a Director and/or Producer. The Director is responsible for the overall creative execution, interpreting and bringing the campaign's vision to life. For smaller brands, you and your videographer cover this role.
Photographer (photo shoots):
The person with the camera taking the photos. They are responsible for capturing the images required for the campaign.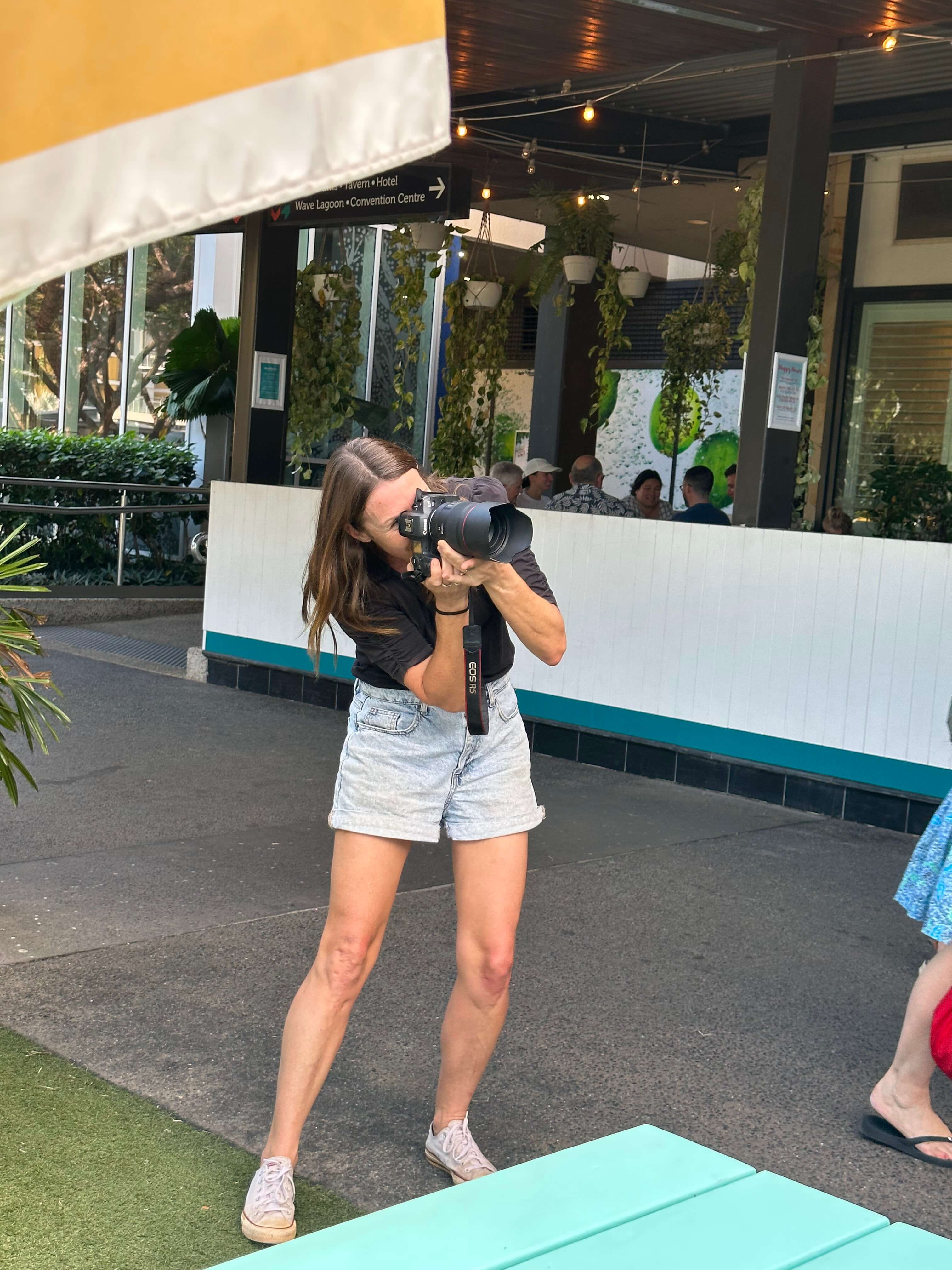 Legendary photographer Helen Orr shot Campaign Del Mar's latest brand campaign in Darwin.
Stylist:
Most common for fashion and food shoots, the stylists are responsible for, you guessed it, how each shot is styled. For example, how the dish is plated or how the model is dressed. For smaller brands, this is your role.
Creative or Art Director:
The 'art' department is responsible for the look and feel of the shoot. They oversee the set design, wardrobe, props, styling, hair and makeup.
Not all shoots have a Creative or Art Director, it's mainly the bigger, creative projects like advertising campaigns. If you are a smaller brand on a budget, you should cover the role of a Creative / Art Director. Don't worry; I will tell you what to do, as this is my role on set. See production.
Talent:
That's actors, models, influencers, extras, friends you've roped in and more than likely you! The 'talent' could also be your product, like clothing, food or beauty items.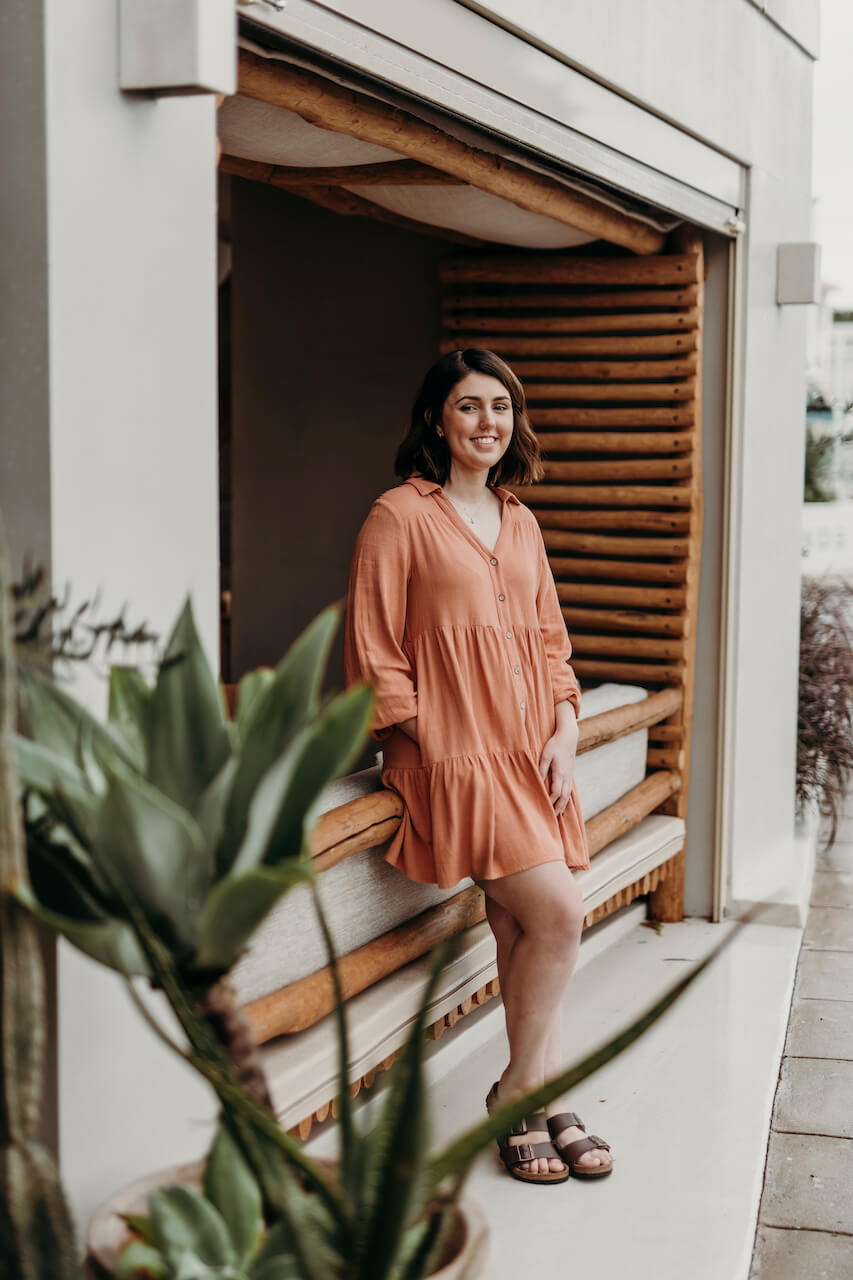 Campaign Del Mar's Emily Lambourne at one of our brand photoshoots.
Client:
You. You should be at the shoot, even if you are using an agency. Your job on set is to ensure your brand is represented the way you want it to be. The buck stops with you. While you should leave the professionals to do their job, if you see something out of place and not quite right, you need to speak up.
You also need to handle any legal or compliance issues; for instance, when we shot a campaign for a market-leading automotive and insurance company, we had to show the car was in park before our character answered the phone in the car. It couldn't be implied; we need to film the gear stick in the park position.
Hair & Makeup Artist:
Longer shoots often call for a hair and makeup artist to be present to touch up and create new looks for different scenes.
Others:
Depending on the size of the campaign, it's common to have more than one camera operator, lighting technicians, assistant directors and a bunch of assistants.
There are a lot of roles on set, and for smaller brands who can't afford all those people, you need to perform several roles, most commonly, client, art director and talent. This requires expert preplanning.
Pre-planning or pre-production
Follow the golden rule of 80% pre-production and 20% production. This means front-loading everything before the shoot so that nothing is left to chance.
During pre-production, everything is planned to ensure the shoot runs smoothly, all the content required is captured, and you stay within budget.
This includes;
Creative briefs:
The overarching guide of what the campaign is trying to achieve. Do not skimp on creating a considered, clear brief.
Storyboards and scripts: A storyboard is a scene-by-scene breakdown of a video shoot, and the script is what lines are spoken or narrated.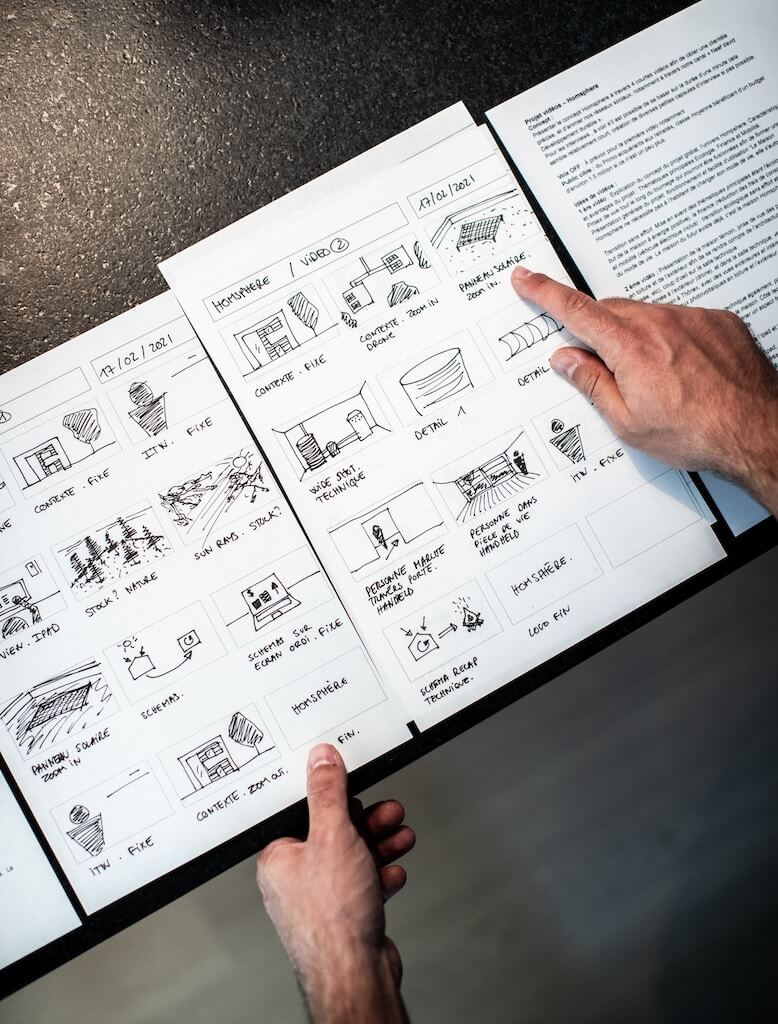 Shot list: a list of all the individual shots required. You don't want to wrap a shoot and realise you didn't capture x, y, z shots that are required for launching your campaign. Don't rely on your memory; list every setup and shot you need in advance. Looking up, looking down, looking straight ahead, looking far off into the distance, list them all. Videos are not always filmed in the order they are played. Sometimes, the last scene is filmed first and the first scene last, so a shot list ensures that there are no gaps in the story.
Prop list: The right props can elevate a camapign from meh to amazing. As above, make a list of all the different props you require. If you're a podcaster, you will need a microphone and headphones. On the set of the Gurus We Deserve, we had a money gun that we spray painted pink, which we loaded with 'prop' money. That scene in the film is one of the best.
Mia Fileman with her campaign posters during the Make Marketing Great Again Shoot.
Run sheets: a play-by-play of what happens when at the shoot. It has call times for the cast and crew and lists all the locations. A run sheet is essential for each person to know their role and responsibility at the shoot.
Actress Jéssica Erler checking over her run sheet.
Location scouting: Finding the perfect location(s) isn't easy, and even after you do, you need to ensure the location is happy to have you and they are available on the day of your shoot. For Campaign Del Mar's latest photo shoot, we wanted on-brand locations, which meant finding venues that had Amalfi Coast vibes.
Mia Fileman used Poco Bar, a pop-up laneway bar in Darwin, for our latest brand campaign shoot. It even came with a very on-brand Vespa.
Many smaller brands overlook the planning and coordination involved in a shoot, or they assume it's the photographer or videographer's responsibility. The props required for the shoot don't magically appear on set, nor are they typically the responsibility of the videographer or photographer.
Don't assume; use this article to ask the questions of your suppliers and make sure all roles and responsibilities are covered.
Production
Shoot days are high-pressure environments, but they are also exhilarating.
If you are the talent, it makes it hard for you also to be the Director / Producer, so you may want to consider having this role filled by someone else. In both Gurus and MMGA, which I starred in, I had a Director and Producer.
You should arrive on time with a suitcase full of props and all your outfits steamed.
Your job on set is to ensure the footage coming out of the camera is what you envisioned. It's not going to be the final product, but it's close enough. Often, the production company will provide a monitor that you can stand in front of and preview the images or video footage.
A monitor a production company set up so the client, stylist and art director can preview the footage.
At a shoot 10 years ago, I was watching a photo shoot with my naked eyes instead of previewing the images in the camera. When we received the photos, our hero talent's tie looked too short. It looked okay at the shoot, but the photo told a different story. Thankfully, lengthening a tie is possible in post-production, but it comes with additional unanticipated costs.
Post production
Now, the footage needs to be edited, graded, mixed and exported.
Your job as the client is to provide helpful and detailed feedback to whoever is editing the footage so it can meet your desired outcome.
Don't just say you don't like a photo or scene; explain what you don't like about it and make suggestions.
Compile all your feedback to avoid several back-and-forths, which wastes time and money.
If you are starring in your own campaign, try to put vanity aside. Unless you look like Margot Robbie, you are not going to love everything about your face, body and voice.
Music
It is at this stage that music is added if required. Music can make and break your campaign, so it's worth the effort to find the perfect bed of music for your campaign.
Pro Tips
Voice / Acting Coach: If you are starring in your campaign, you want to know your lines and have practised your delivery so you don't hold up production. For both the Gurus We Deserve and Make Marketing Great Again (MMGA), I worked with an acting coach.
On-brand props and accessories: Small details can make a big difference. Instead of bringing any old pens and notebooks as props, try to incorporate brand elements in your props. This will create a more cohesive and distinctive end result.
Behind-the-scenes footage: To maximise the content captured, it's worth considering having someone capture behind-the-scenes (BTS) content to share across social media. Social media platforms require tons of content, and BTS content performs well on these channels.
Mia and content creator Savanah Kelly, who we hired to shoot BTS footage of our latest shoot on an iPhone.
Working with professionals
That sounds like a lot because it is.
Even if you are hiring a production company, photographer or videographer, there is still a lot of work that you will need to do to ensure it's what you want. Production teams aren't mind readers. Brands with smaller budgets can't afford to entirely outsource everything, so they need to do more of the heavy lifting. Scripting, storyboarding, location scouting, props, wardrobe, shot lists, art direction, styling and talent sourcing are all jobs that you will probably need to cover, depending on your budget.
A gut load of work goes into pulling off a successful campaign shoot. It's worth the time and financial investment to create something that will help attract new people to your brand. If you're ready to invest in a professional campaign shoot for your brand, check out Campaign Classroom, our signature program where we take you from idea to launch.
That's a wrap 🎬

Mia Fileman on the set of The Gurus We Deserve
Written By
Mia Fileman
Global Marketing Strategist
Mia is a campaign strategist and founder of Campaign Del Mar. You'll love her hard hitting, no BS marketing expertise honed by 20 years in the industry. She is a widely published writer for publications including Social Media Examiner, Mumbrella, Marketing Mag, Smart Company and Better Marketing. She spent 10 years in brand management roles for global consumer brands Vegemite, Kraft, Maybelline and BIC in France. Now she's a full-time trainer, mentor and consultant that works with you to drive your business results.
Author
Mia Fileman
Global Marketing Strategist
Mia is an expert marketing strategist and founder of Campaign Del Mar. You'll love her hard hitting, no BS marketing expertise honed by 20 years in the industry. She is a widely published writer for publications including Social Media Examiner, Mumbrella, Smart Company and Better Marketing. Mia has spent 10 years in brand management roles for global consumer brands Vegemite, Kraft, Maybelline and BIC in France. Now she's a full-time trainer, mentor and consultant that works with you to drive your business results.